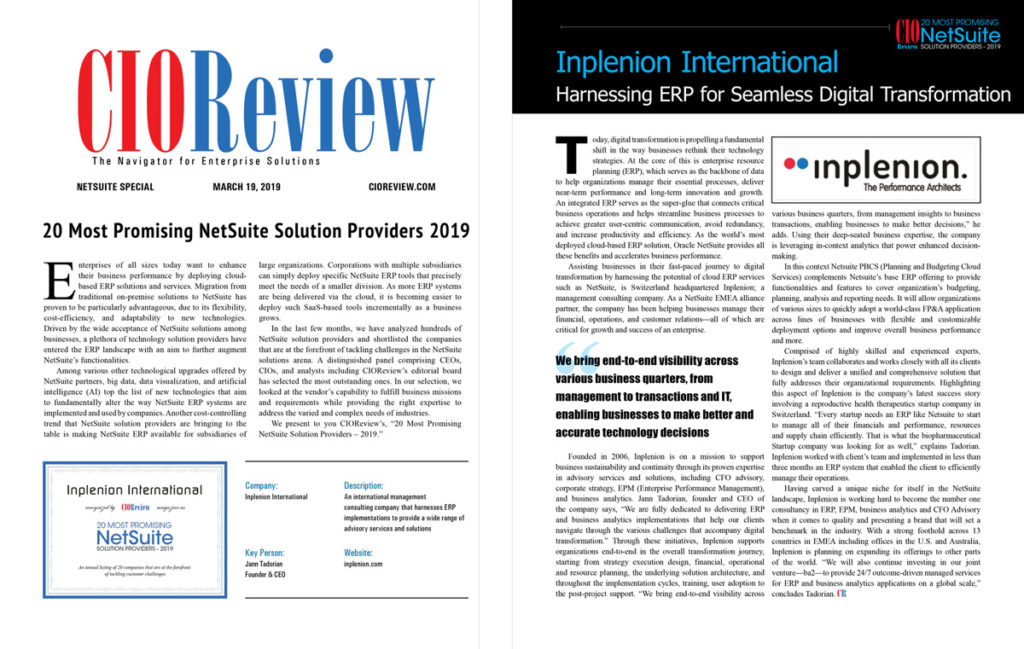 Inplenion is recognised by CIO Review magazine as 20 Most Promising NetSuite Solution Providers Worldwide – 2019
Today, digital transformation is propelling a fundamental shift in the way businesses rethink their technology strategies. At the core of this is enterprise resource planning (ERP), which serves as the backbone of data to help organizations manage their essential processes, deliver near-term performance and long-term innovation and growth. An integrated ERP serves as the super-glue that connects critical business operations and helps streamline business processes to achieve greater user-centric communication, avoid redundancy, and increase productivity and efficiency. As the world's most deployed cloud-based ERP solution, Oracle NetSuite provides all these benefits and accelerates business performance.
We bring end-to-end visibility across various business quarters, from management to transactions and IT, enabling businesses to make better and accurate technology decisions
It will allow organizations of various sizes to quickly adopt a world-class FP&A application across lines of businesses with flexible and customizable deployment options and improve overall business performance and more.
Comprised of highly skilled and experienced experts, Inplenion's team collaborates and works closely with all its clients to design and deliver a unified and comprehensive solution that fully addresses their organizational requirements. Highlighting this aspect of Inplenion is the company's latest success story involving a reproductive health therapeutics startup company in Switzerland. "Every startup needs an ERP like Netsuite to start to manage all of their financials and performance, resources and supply chain efficiently. That is what the biopharmaceutical Startup company was looking for as well," explains Tadorian. Inplenion worked with client's team and implemented in less than three months an ERP system that enabled the client to efficiently manage their operations.
Having carved a unique niche for itself in the NetSuite landscape, Inplenion is working hard to become the number one consultancy in ERP, EPM, business analytics and CFO Advisory when it comes to quality and presenting a brand that will set a benchmark in the industry. With a strong foothold across 13 countries in EMEA including offices in the U.S. and Australia, Inplenion is planning on expanding its offerings to other parts of the world. "We will also continue investing in our joint venture—ba2—to provide 24/7 outcome-driven managed services for ERP and business analytics applications on a global scale," concludes Tadorian.