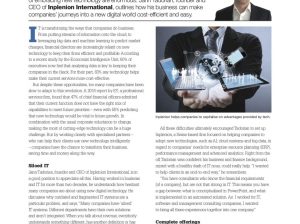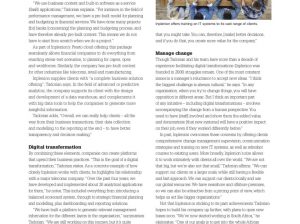 Further business with technological understanding
New ways of doing business – including cloud software and leveraging big data – are revolutionising the global market. But too many firms are stymied by inefficient systems and managerial apathy. This is a shame: the benefits of embracing new technology are enormous. Jann Tadorian, founder and CEO of Inplenion International, outlines how his business can make companies' journeys into a new digital world cost-efficient and easy.
IT is transforming the ways that companies do business. From putting streams of information onto the cloud, to leveraging big data and machine learning to predict market changes, financial directors are increasingly reliant on new technology to keep their firms efficient and profitable. According to a recent study by the Economist Intelligence Unit, 60% of executives now feel that analysing data is key to keeping their companies in the black. For their part, 83% say technology helps make their current services more cost-effective.
But despite these opportunities, too many companies have been slow to adapt to this revolution. A 2016 report by EY, a professional services firm, found that 47% of chief financial officers admitted that their current function does not have the right mix of capabilities to meet future priorities – even with 58% predicting that new technology would be vital to future growth. In combination with the usual corporate reluctance to change, making the most of cutting-edge technology can be a huge challenge. But by working closely with specialised partners – who can help their clients use new technology intelligently – companies have the chance to transform their business, saving time and money along the way.
Jann Tadorian, founder and CEO of Inplenion International, is in a good position to appreciate all this. Having worked in business and IT for more than two decades, he understands how hesitant many companies are about using new digital technology. He discusses why outdated and fragmented IT systems are a particular problem, and says, "Many companies have 'siloed'
IT systems. Different departments have their own solutions and aren't integrated. When you talk about revenue, everybody understands something different, has another definition or has another figure. This lack of integration – a single platform that links together different data – is very outdated."
Another problem is how hard companies find it to properly analyse data, Tadorian continues. "They do not have state-of- the-art analytical platforms that [allow them] to make use of predictive analytics, machine learning or AI. They need to have systems that are data consistent, and can recognise patterns in
the data to generate new insights and knowledge," he says. "In the meantime, companies are forced to rely on manual analytics, with employees sitting in back offices poring over reams of confusing data. The whole thing is a bit 'old fashioned'", Tadorian smiles.