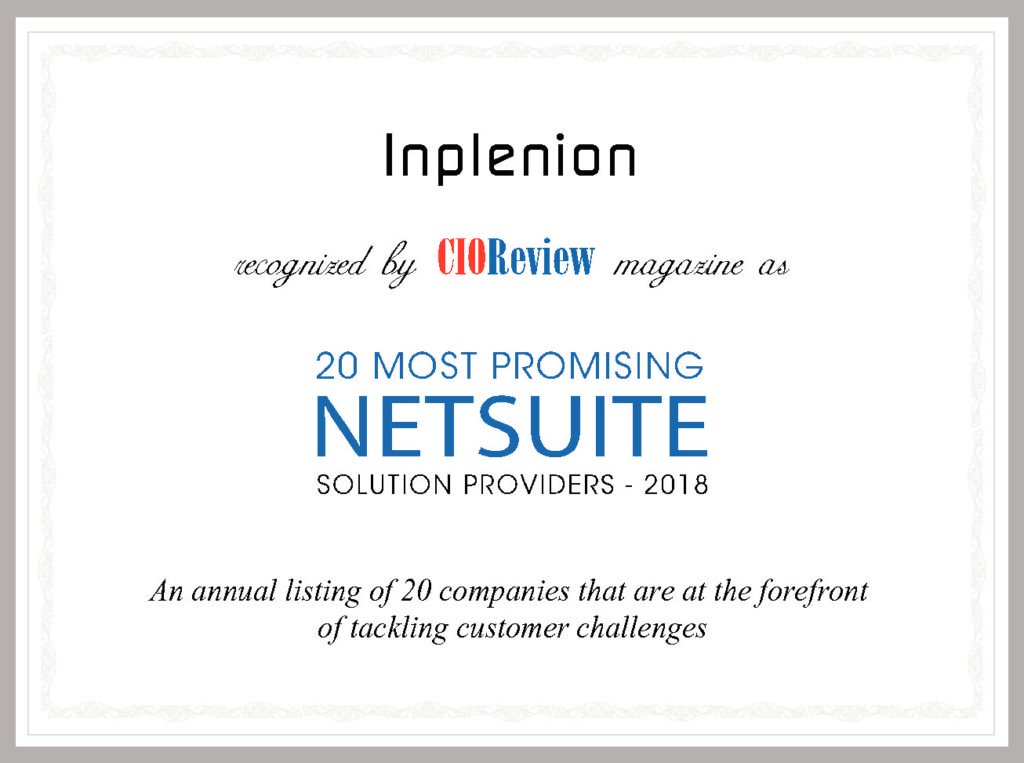 Inplenion: The Digital Transformation Experts
Digitalization has emerged as the force that propels companies to stay competitive by improving customer interactions and be responsive to market changes. As the torch bearer of digital transformation, NetSuite, powered by Oracle, is empowering businesses of all sizes to explore cloud potential and disrupt the market faster. However, the knowledge gap existing due to the siloed IT and management consulting is posing significant challenges to innovation. The need of the hour is to have a partner that can help them navigate through both management and IT side of the equation as a single point of contact for holistic digital transaction. A management consulting specialist and software industry veteran, Jann Tadorian is helping companies fast pace their journey to digital transformation. Tadorian founded Inplenion in 2006 in Switzerland to deliver services ranging from strategy, to planning and execution, to training, through 24/7 support. Inplenion's highly skilled team of experts has set out to support business sustainability and continuity by harnessing the potential of cloud services such as NetSuite to manage a business's financials, operations, and customer relations.
Unlike other consultants, Inplenion excels in bringing end-to-end visibility across the various business quarters, from management, to transactions, to IT, that helps businesses make accurate technology decisions. The company does this through their rapid prototyping methodology in which they build pilots, using Agile technologies, and take quick feedbacks from the client to zero in on a particular technology. As Tadorian notes, "The key is to understand client's vision and mission from which we find the right technology and develop an implementation strategy." Each level of the engagement process is executed to perfection backed by accurate reporting of the progress to improve the efficiency in terms of time and cost.
"The key is to understand client's vision and mission from which we find the right technology and develop an implementation strategy"
As a valued IT services and advisory partner to some of the leading organizations across EMEA with offices in Central Europe, Eastern Europe, Middle East, North Africa and South Africa and its Global Support Center in the US. The company has successfully completed over 500 projects in the industry. Inplenion's level of expertise is best explained with an instance where the company assisted a startup medical practice focused on dental clinics. As the client was involved in a number of mergers and acquisitions as part of their vision to expand, the client wanted a complete transactional processing and management system that collects, stores, modifies, and retrieves the data transactions of an enterprise. After analyzing the client's requirements, Inplenion's team not only suggested the right solution for the customer, but also provided expert consultation in deploying a transactional management system that provided better insights for making better decisions. With Inplenion's end-to-end services and support, the client was able to seamlessly deploy solutions for performance management, document management, data warehousing and dashboarding, for reporting data from different clinics.
Inplenion has expanded in over 13 countries, catering its management consulting and integration expertise to a wide variety of organizations across the globe. In the long run, the company envisions leveraging artificial intelligence and machine learning techniques to enhance its capabilities for delivering the right solutions to customers. "Today, every industry is interested in artificial intelligence and machine learning for analytics and predictions; we are eager to work with these technologies to further improve our value proposition and the effectiveness of our service delivery," concludes Tadorian.