It's all about Cash…
While happiness in life might have different definitions and reasons like happy family, great career, achieving a dream …etc. Happiness in life is generally linked to experiencing more positive feelings than negative. Likewise, there is only one factor of happiness in business which is a POSITIVE Cash Flow. 
As a lifeblood of a business, cash holds an important role in the ac of surviving. Without it, it is very unlikely for a business to stay afloat. Similar to the body, a business requires several supports to keep the system running; and maintaining Positive Cash Flow also described as maintaining the lifecycle of a business on its optimum stage.  Having the right amount of cash to be allocated at the right moment and places helps a business to stay well balanced.
As business leaders once said, "Revenue is vanity, and Profit is sanity, but Cash is king", making more money will not solve your anything if your problem comes from the way your business manage Cash Flow. Therefore, there are three key reasons why you must be on top of your Cash Flow and maintain it in a proper way:
Make better plans and decisions: Planned Cash Flow helps your business to track down your cash flow projection and show the exact amount you have available at any given moment. This is vital because any plan and decision you make must be supported by accurate information. By planning Cash Flow, you could save so much time in the future and prevent from making bad decisions that put your business at risk.
Maintain your reputation: Maintaining Cash Flow will avoid the possibility of being financially insufficient which leads to many issues such as late payments or even putting the productions on halt. These concerns can harm the business relationship you have with your suppliers, partners, or even your employees and damage your overall reputation. It's essential to have a thorough projection on your cash so your business could run without worries upon unaffordability.
Expand at the right time: Growing wings and spread it across the globe are dreams of every business. However, business growth cannot be done in a go; it requires a lot of purchasing. Stock purchases, renting buildings, and hiring employees will take place before making any Cash-in from the expansion itself. If you don't have the funds available to match your growth, then you're going to run into problems which would result to the long-term ones. Managing your cash flow effectively will also help you project the right time to expand your business. A study found 82% of businesses are failing because they have cash flow issues. Make sure you're not partaking by starting your Cash Flow management with the right tools, and trusted advisors to help you implementing it in a way to leverage it at best.
Some organizations might have had visions and the missions to achieve but having difficulties on choosing the right tool to maintain their cash flow for accurate cash flow projection. They might spend too much time on determining only one KPI such as Days Sales Outstanding (DSO) which is subsequently important to manage receivables. Companies that maintain account receivables are indirectly extending interest-free loans, it's kind of another entire business inside your operational business or selling your own products or services, the same for managing your Days payable Outstanding (DPO), and Days Inventory Outstanding (DIO) and other KPIs which affect your Cash Conversion Cycle (CCC) which is a cycle where the company purchases inventory, sells the inventory on credit, and collects the accounts receivable and turns them into cash.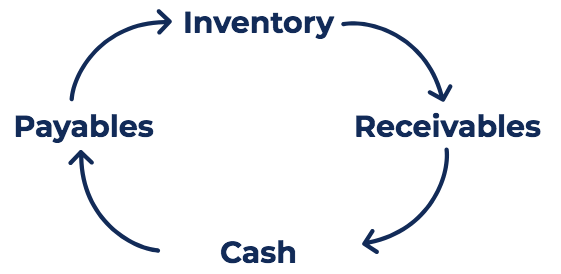 Having the right tool to keep you on top of your cash flow isn't luxury anymore but a vital aspect for your business' health and stability. Speaking about the suitable tool to easily put Cash Flow on the table, Netsuite can take Cash flow and Cash flow projection to the next level.
NetSuite Dashboard simplifies cash management by providing reports and KPIs that can include links to key cash management activities – displaying reminders of tasks that need to be taken care of, current cash balance, accounts payable and accounts receivable balances, cash flow trends, and to monitor your company performance when it comes to the Cash Conversion Cycle, that's allows you to better enhance your cash and keep pushing the ball for the happiness in business which is a Positive Cash Flow.
Inplenion as the official implementation partner for NetSuite also leverages Netsuite Analytics and NetSuite KPIs to build different cash flow projection dashboards and allow Netsuite users not only to have visibility on their performance but also to have more visibility on the cash flow projection and set different criteria on their way those KPIs and Dashboards work according to each business case to get the maximum benefits of having Netsuite implemented as an ERP solution.

What if you don't want to only keep pushing the ball and have positive cash flow that allows you to keep growing your business with confidence and make reliable decisions, but also you want to control the entire game?
For above functionalities, Netsuite Planning and Budgeting is a true and powerful performance management tool that allows you to set your goals, control your KPIs, and set your different target for different areas over different periods. By starting the entire process from your vision and what you want to achieve, moving towards what you need to do as an action to achieve it. By submitting your targeted KPIs and let NetSuite Planning and Budgeting spread all the necessary needed actions back across your all-different lines, and continuously measure your performance by having powerful variance analysis. It allows you also to simulate your strategic decisions and understand the impact on your cash flow before even making those decisions.
As one of the most experienced and trusted Implementation Partners for both NetSuite ERP and NetSuite Planning and budgeting, Inplenion supports NetSuite customers to unlock all the potential benefits of having Netsuite implemented to excel the daily operation and NetSuite Planning and budgeting to manage the organization performance in an excellent and innovative way.