Optimize your Investments Portfolio
Managing and Optimizing Performance with Hyperion EPM's Tool – Strategic Finance
Investment management companies today are invested in numerous companies in a range of industries. Managing these investments' directions and cash flows can be challenging. Where some investment companies might be in a mature phase of their existence generating positive cash flows other investment companies will require additional cash infusions. Understanding the phase of these investments and their cash positions is essential for treasury planning and the healthy growth of the company. Further, what can be expected of the strategic initiatives of these investment companies?What are the impacts of one plan over another regarding earnings, market share, and cash flows? These are the questions that faced most investment companies.
The Solution Provided by Inplenion Consulting
As with any business issue it was important to understand the real questions affecting a business. The following factors appear to be understood from the company's investments point of view: 1) the periodic cash flows; 2) the operating performance and KPIs; and 3) the holding company's overall treasury position.
Inplenion, the region's premiere Oracle EPM consultancy, using Hyperion architecture devised and implemented a solution tailored to these objectives.The resulting system used Hyperion Strategic Finance to create forward looking business models for each investment company and expected future project. Customers can include their strategic plans for these companies in the system to better understand those companies' future expected performance. Cash needs and distributions are also estimated and included. These results are then combined based on a company's ownership level to reach an overall treasury outlook. The overall company's expected periodic cash position can then be better planned for and managed.
The solution Inplenion created gives us much more confidence in our company's direction and overall future cash position." says the Corporate Performance and Treasury Director at Al Qudra. "Now, we can spend more time managing our investments and better timing the treasury aspects surrounding them. Further it helps us to integrate future projects with our overall plan and to really get a feel for the impacts on cash during the early investment years.
The Value in Hyperion Strategic Finance
Oracle Hyperion Strategic Finance is a feature rich financial forecasting and modeling solution with on-the-fly scenario analysis and modeling capabilities. It helps users quickly model and evaluate financial scenarios, and offers out of the box treasury capabilities for sophisticated debt and capital structure management. When used in conjunction with other Oracle enterprise performance management and Oracle business intelligence products, it provides a compelling solution which can be used to set targets, perform quick financial impact analysis, and present focused financial information for informed decision making.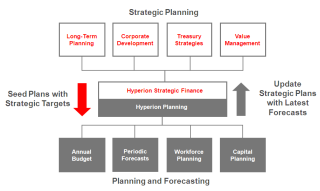 Integrate Strategic Planning into Enterprise Planning and Business Intelligence
As a corporate finance professional you require powerful and agile tools to analyze the effects of fast changing business circumstances on your company's financial performance. You need a solution that goes beyond typical enterprise financial planning solutions to address the more complex challenges inherent in doing quick what-if scenario modeling and in long range target setting. Oracle Hyperion Strategic Finance integrates strategic planning into your enterprise planning process. It allows users quickly develop financial models, perform on the fly what-if impact analysis based on dynamic decision variables and arrive at targets that can then be used within other enterprise performance management and business intelligence products. Oracle Hyperion Strategic Finance serves as a pivotal link for organizations to do closed loop, strategy oriented performance management.
Oracle Hyperion Strategic Finance is an integral part of Oracle's EPM suite through which Oracle provides a comprehensive planning and financial management solution that includes financial and operational planning, workforce and capital expense planning, and strategic planning.

Many finance organizations still rely on customized spreadsheets to do financial modeling and impact analysis during their various financial decision making process. Spreadsheets while familiar and widespread do not provide out of box sophisticated financial capabilities. Over time these customized spreadsheet solutions also become bulky to manage and lack in data transparency and integrity.
Moreover they do not integrate your strategic planning, treasury, and financial modeling activities.
Key Benefits:
Gain Deep Business Insight
Bring Integrity to Financial Modeling
Save Time and Money with Prebuilt Financial Tools
Minimize Risk and Uncertainty
Enhance Enterprise Value and Reduce the Cost of Capital
Key Features:
What-If Analysis Toolkit
Analyze Trail
Funding Options
Debt Scheduler
Deal Period
Consolidation
Integrated & Free Form Reporting