NetSuite software is an online service that enables companies to manage all key business processes in a single system. There is no hardware to procure, no large, up-front license fee, no maintenance fees associated with hardware or software and no complex set-ups.
NetSuite is the Fastest-Growing Financial Management System.
NetSuite is used to manage inventory, for enterprise resource planning (ERP), to keep track of financials, to host eCommerce stores, and to maintain customer relationship management (CRM) systems. It is a flexible platform that can be applied to a wide variety of business applications.
The #1 Cloud Management Business Suite
Join more than 40,000 organizations running their business on NetSuite
ERP
NetSuite ERP runs all of your key financial business processes in the cloud: accounting, inventory, supply chain and order management.
CRM
NetSuite is the only on-demand CRM system that gives you a true 360 degree view of your customers.
PSA
NetSuite Professional Services Automation helps you accurately plan, track and execute projects.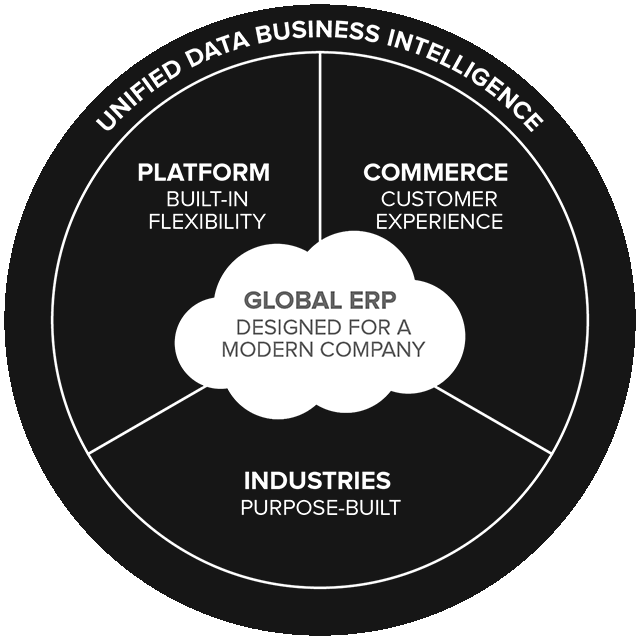 One System
Real-time, unified global business management platform to manage multi-national, multi-currency, multi-language and multi-subsidiary operations.
Ecommerce
Unify every step of your webstore from POS and order management to marketing, merchandising, inventory, financials and support.
Retail
NetSuite offers a powerful, cloud-based retail software solution designed to satisfy your omnichannel shoppers.
Manufacturing
NetSuite's solution for manufacturing allows you to focus on delivering products and services while gaining agility for scalable growth.
A solution for your business.
Key Benefits of the NetSuite Cloud Software Platform: